Standing Seam - Architectural

Architectural Standing Seam systems are virtually leak-proof that pay for itself in lower maintenance and repair costs. Installation can be over Open Framing or a Solid Substrate (Wood Decking, Rigid Board Insulation or Metal Deck). Minimum roof slopes may be required for certain Panel Profiles. You have the choice of a Snap Seam or Mechanically Seamed Profile that uses an electrical seaming machine that insures a complete weather-tight connection. Other features available are: High/Low Clips, Floating/Fixed Clips, UL-90 Rating and FM Rating. A Floating Clip system fully accommodates any Thermal Expansion/Contraction required. Standing Seam Roof systems minimize fastener penetrations, which are the main cause for roof leak problems.
A variety of Panel Profiles, Gauges, Widths and Paint Finishes are available. Weather-Tightness Warranties are provided upon request, if certain project criteria are met and approved by the Panel Manufacturer. Special Applications for some of these panels are: Panels can be turned down over the Eaves to form a Wall Fascia appearance, Canopies, Fascades, Equipment Screens, Residential Roofs and much more. Please contact us for help in determining which Profile, Application and Weather-Tightness Warranty that may be best for your project.
Click on a panel to view a larger image.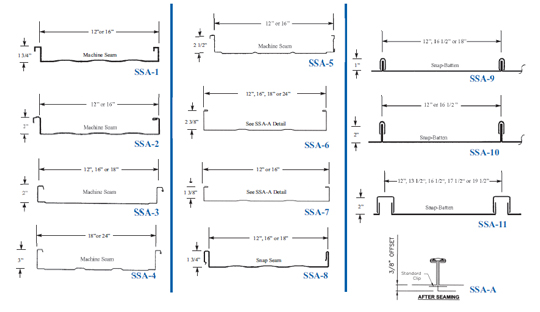 Standing SeamPanel Notes:
Please inquire for other Panel Profiles/Width's, UL90 / FM Data, Special Applications, Embossing, Special Gauge availability, Special Colors or Finishes.
Certain Panels may offer Striations or Pencil Ribs, which help to minimize Oil Canning, which is not a cause for panel rejection.
Some Profiles may require minimum quantities and longer lead times.
Panels SSA-I thru SSA-7 require a field seaming kit to field form panel side-laps. A rental fee is required.
Panels SSA-9 thru SSA-I I should only be installed over a solid substrate.
All the above Panels are not recommended for Wall Applications, but some may be used on an Eave Turn-Down Fascia connection.
Some of the above Profiles can also be Curved or Job-site roll-Formed.
For Standing Seam Roof-Type, Profiles or Applications that do not appear above please contact us.