Standing Seam - Commercial

Commercial Standing Seam Roof systems are virtually leak-proof that pay for itself in lower maintenance and repair cost. Installation can be over Open Framing or a Solid Substrate (Wood Decking, Rigid Board Insulation or Metal Deck). You have the choice of a Shan Seam Profile or Mechanically Seamed that used an electrical seaming machine that ensures a complete weather-right connection. Other features available are:
High/Low Clips, Floating/Fixed Clips, UL90 Rating / FM Rating. A Floating Clip system fully accommodates any Thermal Expansion/Contraction required. Standing Seam Roof systems minimize fastener penetrations, which are the main cause for roof leak problems. A variety of Panel Profiles, Gauges, Widths, and Paint Finishes are available. Weather-Rightness Warranties are provided upon request, if certain project criteria are met and approved by the Panel Manufacturer.
Click on a panel to view a larger image.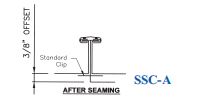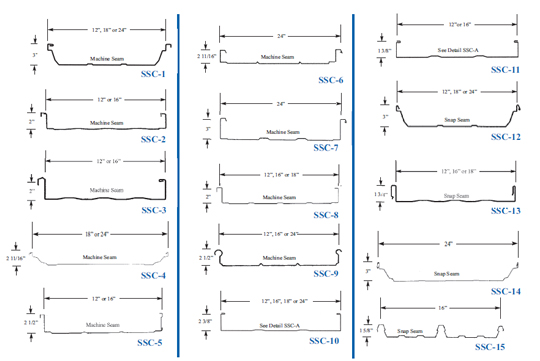 Panel Notes:
Please inquire for other Panel Profiles/Width's, UL90/FM Data, Special Applications, Embossing, Special Gauge availability, Special Colors or Finishes.
Some profiles may require minimum quantities and longer lead times.
Panel Embossing, Striations or Pencil-Ribs will help to minimize oil canning. Oil Canning is not a cause for panel rejection.
Panels SSC-1 thru SSC-11 require a field seaming kit to field form panel side-laps. A rental fee is required.
Panels SSC-1 thru SSC-9 have factory applied mastic in the female seam.
Swagging @ Panel End-laps is available on certain panel profiles. Please inquire.
Panels SSC-10 & 11 have a Seam Cap with (2) beads of Factor Caulk applied.
Some of the above Profiles can also be Curved or Jobsite Roll-formed. See Curved – Jobsite Rolled Forming section.